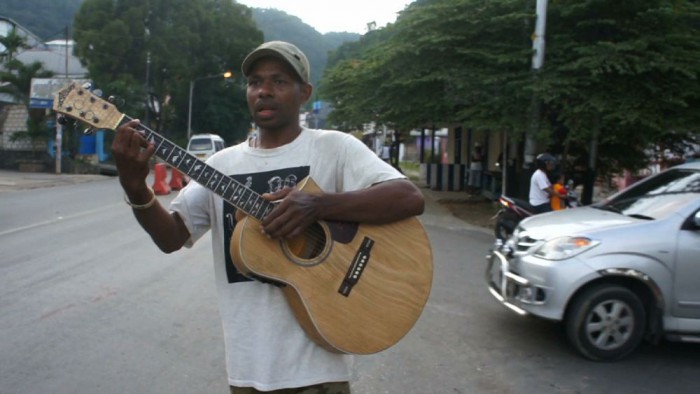 Bernard Rumsayor is a songwriter and musician, living in Jayapura, West-Papua.
Seharusnya Satu
slalu saja kita timbulkan
perbedaan yang memisahkan kita
antara gunung dan juga pantai
yang seharusnya satu
jangan perna melakukan segalanya
Dengan kuat diri
dan jangan perna menimbulkan ego-mu
karena kamu mampu
Koor:
tetapi marilah kita berkumpul
menyatukan hati dan srahkan padu-nya
demi satu tujuan, demi satu harapan
bergandengan tangan marilah
kita bersatu
Should one

Always we show differences
that separate us,
between the mountains and the beach,
which should be one.
Do not breath,
do everything what strengens yourself.
Not breathing raises your ego,
because you are able to.
But let us get together,
unite our hearts and submit its solid,
for one purpose, for one hope,
let's join hands,
we unite.